LAS VEGAS (AP) — The Republican Party's 2024 hopefuls, emboldened after the midterm elections, openly cast Donald Trump as "a loser" over and over last weekend as they courted donors and activists fretting about the GOP's future under the former president's leadership.
Trump's vocal critics included current and former Republican governors, members of his own cabinet and major donors who gathered along the Las Vegas Strip for what organizers described as the unofficial beginning of the next presidential primary season. It was a remarkable display of defiance for a party defined almost wholly by its allegiance to Trump for the past six years.
Context: GOP's 2024 hopefuls begin to distance themselves from Trump at Las Vegas event: 'If he becomes the Republican brand, the party is going to be destroyed'
Also: Here's how candidates endorsed by Trump performed in the midterm elections
"Maybe there's a little blood in the water and the sharks are circling," Maryland Gov. Larry Hogan, a Republican presidential prospect himself and frequent Trump critic said in an interview. "I don't think we've ever gotten to this point before."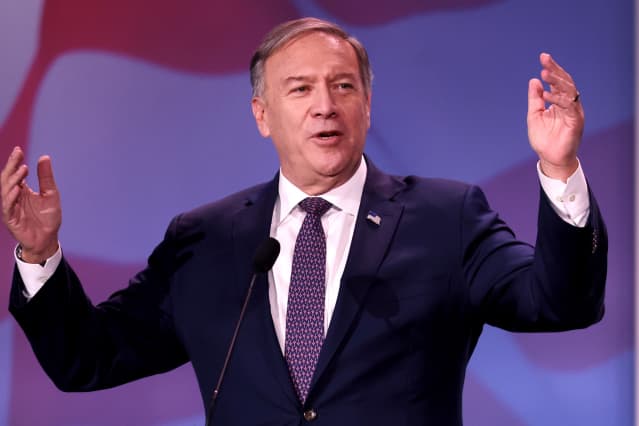 The gathering of the Republican Jewish Coalition's annual leadership meeting, which last Friday, came just days after Trump became the first candidate to formally launch a 2024 campaign. His allies hoped his early announcement might ward off serious primary challenges, but several potential candidates said that's not likely after Trump loyalists lost midterm contests last week in battleground states from Arizona to Pennsylvania. His political standing within the GOP, already weakening, plummeted further.
Ahead of his Friday night address, Mike Pompeo, a former Kansas congressman CIA director and secretary of state under Trump, mocked one of his former boss' slogans: "We were told we'd get tired of winning. But I'm tired of losing."
"Personality, celebrity just aren't going to get it done," he said later from the ballroom stage. It's not always sufficient, Pompeo reportedly said, "to own the libs."
Pompeo, though, went on, in a remark to Dave Weigel of Semafor that seemed calculated to trigger controversy, to characterize teachers-union leader Randi Weingarten — and not Vladimir Putin or Kim Jong-un or Xi Jinping or any international terrorist mastermind — as the "most dangerous person in the world."
"It's not a close call," Pompeo added, even as he claimed in the Semafor interview not to have yet made…


Read More: Pompeo says owning the libs won't do the trick in 2024, as Republicans signal